Posted by The Fuhrmanns on Dec-7-2011
Chocolate Lab Puppies
Next Litter Due: Nov/Dec
See "Puppies" Tab above
Pure Bred & Registered
Veterinarian-Checked
First Shots & De-wormed
Family raised / Free to Roam Farm, not Kenneled
Well-Socialized with people and animals
At Our Father's Farm, all of our dogs are pets and workers.They are not caged, but run free on our beautiful 115-acre farm. All of our dogs are well trained in basic obedience.  The adult dogs and the puppies are all well-socialized with people and other animals. The puppies are handled often by our eight children.
A Lab Puppy from Our Father's Farm is a friend you will cherish for years. Labrador Retrievers have an enduring reputation for gentle temperament, ease of handling and training, intelligence and loyalty. They are truly the perfect family pet!
No Puppies available now.
Next litter due: November/December
Note: email to sam@ourfathersfarmva.com
These puppies will have nice, even temperaments.
Both Meadow(dam) & Rhyme(sire) have smooth, glossy coats.
Expect these puppies to reach mature size around the 60-75 lb. range.
These puppies will carry CKC registration. Ready for new homes around January 9th.
You are welcome to visit your puppy before the pick up date.
$600
Deposit:  A $100 deposit is required to reserve your puppy.
2011 Litter:
Puppies at 3 1/2 weeks
Puppy #1 (M)
Puppy #2 (F)–(Reserved)
Puppy #3 (M)
Puppy #4 (F)
Puppy #5 (M)
Puppy #6 (F)
The Parents of these Beautiful Puppies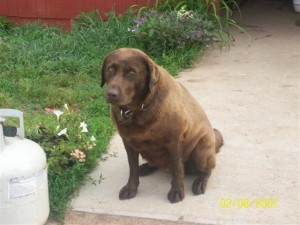 Meadow, the Dame
Meadow Sophie of Our Father's Farm: is almost 3 years old. Meadow has such a sweet temperament and is very pretty.  She is gentle with babies on up to Grandmothers.  Meadow has successfully completed Home Companion courses 1 and 2 as well as receiving the AKC Canine Good Citizen Award.  She weighs a nice 65 lbs. This is her first litter with us, and she is proving to be an excellent and attentive Mom. She has a milk chocolate coat which is very sleek, glossy and smooth. Expect her puppies to mature to the 60-75 lb. range with Rhyme Time as the sire.
Rhyme Time at Covenant Farmis 2 years old. This is his first litter with Meadow. Rhyme has a beautiful dark chocolate coat, broad head and thick, otter tail. He weighs about 80 lbs. He's a gentle lad, with a heart to please. He's gentle with puppies and babies, and would love nothing better than to sit at your feet all day. But throw him a stick or a ball, and he'll be just as happy! Rhyme has some good championship titled dogs in his pedigree.
Our Father's Farm
2664 Deer View Rd. Gretna, VA 24557
www.ourfathersfarmva.com
info@ourfathersfarmva.com
434-656-1188