Watch the promo video for the Open House / Field day and spread the word!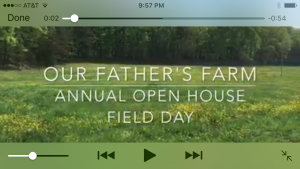 Field Day Information:
Date: Saturday, April 29th, 2017
Location: Our Father's Farm
2664 Deer View Road Gretna, VA 24557
Time: 10:00 – 3:00
Farm Tour Schedule: 1st tour at 11:00 am the 2nd tour at 2:00 pm.
Farm Tours:
    See, touch, and learn about the workings of a truly natural farm and meet your farmers and the animals they raise!  We will offer 2 farm tours during the day.  The first tour will be at 11:00 and the second will be held at 2:00. You will see and learn about the milk cows, calves, chicks, broiler chickens, laying hens, the horse, dogs, puppies, cats, and kittens!
Bonus! There will be a milking demonstration and milk samples. (even fresh ice cream if things go as planned :-)!)
At the end of each tour, Kim will take a few minutes to do a healthy eating demonstration, with yummy samples, and demo/explanation time. It is both interesting and fun for kids & adults!  (parents you won't believe the stuff she will get your kids to try) 
Petting Zoo:
We will have an area as soon as you get to the farm where you can visit, pet, hold, and enjoy the animals while shopping or waiting for a farm tour!
There will be, baby calves, baby chicks, cats & kittens, dogs, PUPPIES, a horse, and more!
Raw Milk Special!
Purchase your herd share for Raw Milk at the Field Day and get it HALF OFF!
To Purchase 1 Herd Share (which is one gallon of milk weekly) is usually$100.
At the Open House / Field day, it will only be $50
and after purchasing the herd share you can have a sample of the other dairy products we provide! Yogurt, Kefir, Cream, and Butter! And coming soon…premium, real, A2A2, delicious, nutrient dense… ICE CREAM!
Farm Store and Bake Sale:
    The store will be open! Plenty of grass fed beef, fresh herb mixes for grilling and cooking (family favorites), kombucha, organic juices, raw milk cheeses from a small, certified organic, Amish dairy farm.  We will be stocked with our usual variety of other items: beauty lotion, healing salves, supplements, superfoods, Apple Cider Vinegar etc.
There will also be a BAKE SALE offering all different kinds of bread, cookies, OOEY GOOEY Cheesy Garlic rolls and more! We are experimenting with sprouted organic wheat and LOVE the results of this light and fluffy, easy to digest, nutritious bread!  Plenty of goodies to make a picnic out of or take home for later 
  Or bring a picnic and enjoy it on the grounds.
Contact us with any questions!

Email   (434) 656-1188